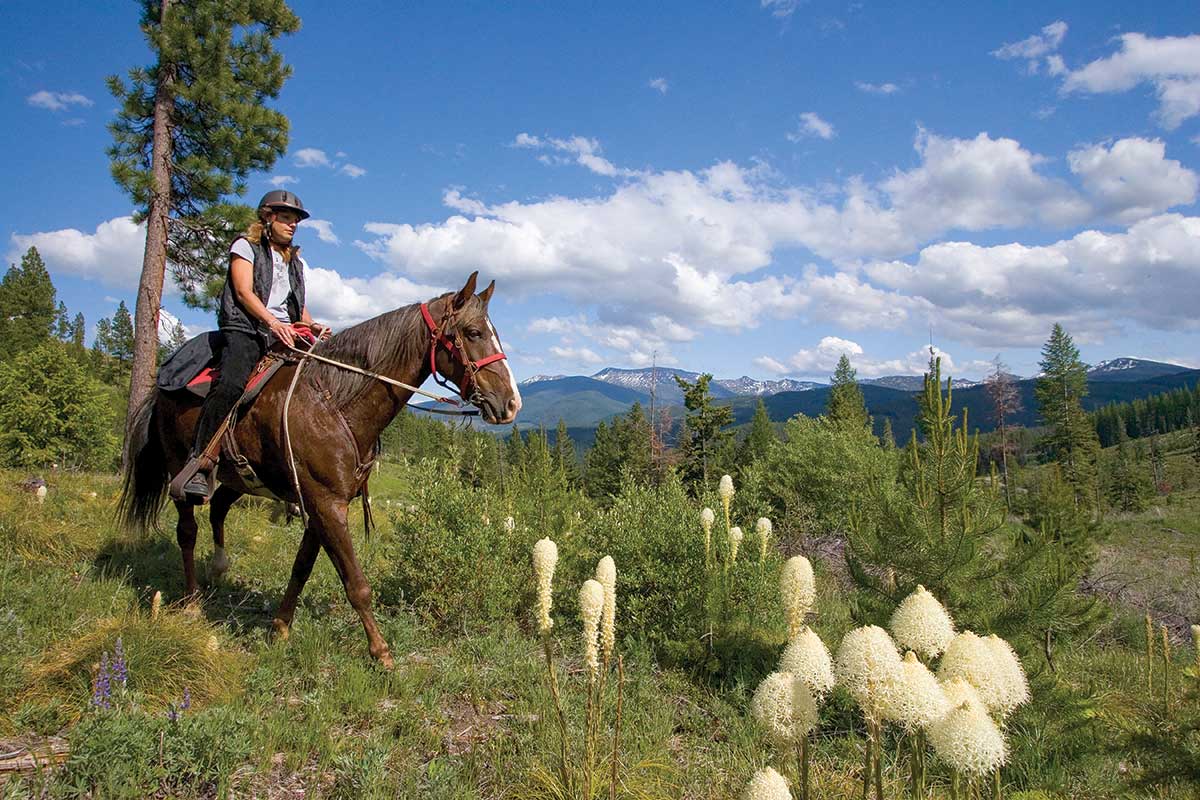 Smooth-gaited horses are bred for the trail. They're easy on the joints and are built to effortlessly carry riders over long distances. If you've always wanted to experience riding a smooth-gaited horse—or if you're thinking of buying a gaited trail mount, but you're not sure which breed is right for you—consider a gaited getaway.
Here, we'll give you the rundown on eight getaways where you can glide down the trail on the back of an easy-gaited horse. For each one, we'll let you know who your host or hosts will be, briefly describe the destination and the trails, tell you which gaited breed or breeds you'll ride, give you a bit about the onsite or offsite accommodations, and more.
Bucks & Spurs, Ava, Missouri
Your hosts: Owners Sonny and C. Huff.
The getaway: Bucks & Spurs is a 700-acre working cattle ranch located in Missouri's Ozark Mountains, near the Big Beaver River and Mark Twain National Forest. The guest ranch offers trail rides on well-trained Missouri Fox Trotters, along with natural horsemanship lessons, cattle drives, team sorting, and cattle herding.
Gaited mounts: Trail- and cow-savvy Missouri Fox Trotters. Bucks & Spurs' Missouri Fox Trotter breeding program has produced multiple champions in versatility, which includes trail class and cattle work.
The trails: Miles of secluded ranch trails go along two miles of Big Beaver River, and through pasture and wooded areas. Terrain varies from shaded woods and open fields to canyons and bluffs.
Accommodations: Choose from a cedar lodge with three full baths and private rooms or an oak and walnut cabin, which features oak logs sawn at the ranch. You'll enjoy all-you-can eat meals, trail-ride breakfasts, chuckwagon dinners, and steak nights.
Best times to go: Fall, spring, and summer.
Bring your own saddle? Yes, you're encouraged to bring your own saddle.
Horses for sale? Yes, Missouri Fox Trotters.
Contact: (417) 683-2381; [email protected]; bucksandspurs.com.
California Coastal Trail Ride, Pescadero, California
Your host: Sam Haggag.
The getaway: This four- to six-day getaway, offered by equestrian-tour company Hidden Trails, is hosted by Blue Sky Riding Experience on the California coast just north of San Francisco. The area features ocean views, bubbling creeks, grasslands, redwoods, and an abundance of native wildlife.
Gaited mounts: Well-trained, trail-savvy Tennessee Walking Horses. According to the hosts, the horses are part of the family, and receive the best care available, from complete nutritional care, dental care, and natural hoof care to natural-horsemanship training and equine massage.
The trails: Trails go along seaside bluffs and grasslands, and through a stand of ancient redwood trees. You'll cross creeks, go through meadows, and ride through the pine forests and canyons of the Santa Cruz Mountains. In the spring, you can whale watch from horseback as you ride along a ridge above the ocean.
Accommodations: Either Costanoa Lodge in Pescadero or similar accommodations, depending on availability. Costanoa overlooks undisturbed shores and rolling coastal hills. On the property grounds, you can walk, relax, enjoy the sun, and take in the ocean view or evening stars. The 40-room lodge features stylish comfort amid natural surroundings. An outdoor hot tub is available. The nearby Cascade Bar & Grill serves California coastal cuisine.
Best time to go: This ride is offered every year from April to June and September to November.
Bring your own saddle? No; Western, English, and Australian stock saddles are available.
Horses for sale? Possibly; discuss with host.
Contact: (888) 9-TRAILS; [email protected]; hiddentrails.com.
Dunrovin Guest Ranch, Lolo, Montana
Your hosts: Sterling & SuzAnne Miller.
The getaway: Located in the Bitterroot Mountains of Montana, on the Bitterroot River, Dunrovin Ranch offers an intimate and comfortable atmosphere with clean, cozy, convenient accommodations. Surrounded by the Lolo National Forest, the ranch offers trail rides along the Bitterroot River. A special program introducing kids to horses is available in spring and fall. Horse camps take place in June, July, and August.
Gaited mounts: Tennessee Walking Horses.
The trails: Dunrovin offers a variety of rides, from one to two hours to all day. River Rides ford the Bitterroot River and continue onto adjacent public land, traveling upstream along the riparian area, through the forest, and across open meadows, ending at an overlook. You'll enjoy views of the Heavenly Twins down the Bitterroot, Ch-paa-qn Peak west of Missoula, the Rattlesnake Wilderness, and even part of the Lewis and Clark Trail. Ranch Rides meander along the Bitterroot River and through a beautiful wetland meadow. The Historical River Ride fords the Bitterroot River traveled by Lewis and Clark before crossing the Rocky Mountains.
Accommodations: Choose one of three private guest units, which are suitable for couples or small families; ranch-house accommodations work for small groups. You'll have access to laundry facilities, barbecue grills, and fire pits.
Best times to go: Fall, spring, and summer.
Bring your own saddle? Yes, but it must fit the horse.
Horses for sale? No.
Contact: (406) 273-7745; [email protected]; dunrovinranchmontana.com.
RS Ranch, Bourbon, Missouri
Your hosts: Owners Tanya and Roy Shoenbeck.
The getaway: RS Ranch is a 500-acre working cattle and horse ranch in the Missouri Ozarks, near the Upper Meramec River. The ranch offers trail rides, cookouts, roping lessons, and hayrides. Sleigh rides are offered in the wintertime.
Gaited mounts: The ranch breeds and trains Missouri Fox Trotters; guests have about 30 horses to choose from, including Missouri Fox Trotters and Tennessee Walkers. The horses are bred, raised, and trained at the ranch, assuring guests of a good experience.
The trails: Trail rides in the Ozarks reveal extraordinary biodiversity of plant and animal species, including wild turkey, white-tailed deer, and other native wildlife. The rides explore local rivers, caves, forests, and ranch lands, and can be hilly and rocky in places. Rides include a saddlebag lunch in a scenic area along the trail or riverbed.
Accommodations: Enjoy bed & breakfast accommodations in a quaint, cowboy-themed log cabin made from local cedar hauled by the ranch's team of Percherons. The cabin has all the necessities, including a full kitchen, grill, fire pit, and fireplace. Enjoy a lake view from the cabin porch. Lunch and dinner are self-catered; local restaurants are also nearby.
Best time to go: Year-round.
Bring your own saddle? Yes, but it must fit the horse.
Horses for sale? Yes, Tennessee Walking Horses and Missouri Fox Trotters.
Contact: (573) 732-4590; [email protected]; rsranchtrailrides.com.
Peruvian ParadiseThe stunning and remote Andes Mountains and the ancient Quechua people who live there can best be experienced from the back of a Peruvian Horse, one of the smoothest gaited breeds in the world.
Equitrekking Travel has designed a ride that takes you to far-off places in the Andes, where you'll visit mountain villages of the Quechua people and the ruins of their ancestors, the Incas—including the magnificent Machu Picchu.
Trails wind through the Andes Mountains, where historic villages and Inca ruins abound. Terrain includes open countryside, old Incan cobblestone roads, and rough, rocky, steep trails.
The adventure begins when you meet up with your guides in Cusco, the oldest continuously inhabited city in South America. You'll stay the night here to get acclimated to the higher altitude. The next day, you'll be driven about 75 minutes into the Sacred Valley, where the ride begins. Much of the ride takes place in elevations up to 12,000 feet, so you need to be in good physical shape.
For more information, call Equitrekking Travel, LLC, (877) 490-7786 or (608) 788-0170; equitrekkingtravel.com.
Trail Horses of the West, Las Vegas, New Mexico
Your host: Owner Fred Mau.
The getaway: Trail Horses of the West, located at Twin Ponds Ranch, offers the largest selection of mature gaited horses in North America. Rides venture into the picturesque Sangre de Cristo Mountains.
Gaited mounts: Breeds include Kentucky Mountain Horses, Missouri Fox Trotters, Rocky Mountain Horses, Spotted Saddle Horses, and Tennessee Walking Horses. These mounts are meticulously trained at the ranch to calmly encounter everything from lakes to stairs to wildlife.
The trails: Trails ranging from easy to moderate in difficulty venture into New Mexico's dazzling mountains. You'll likely encounter water crossings and steep trails. But, Mau assures, there's no hanging off the side of a mountain on narrow trails, just beautiful views aboard smooth horses, with friendly guides.
Accommodations: Stay at Twin Ponds' modern log cabin that's shaded by ponderosa pine trees. The cabin is equipped with a queen-size bed, a kitchen, and a full bathroom.
Best time to go: Year-round.
Bring your own saddle? Yes.
Horses for sale? Yes, a variety of breeds.
Contact: (505) 425-3580; [email protected]; trailhorsesofthewest.com.
Vermont Icelandic Horses, Waitsfield, Vermont
Your host: Karen Winhold.
The getaway: The Vermont Icelandic Horse Farm is near the historic village of Waitsfield, in the heart of the Sugarbush resort area. Full- and half-day trail rides are available, along with two- to six-day treks on four- and five-gaited Icelandic Horses. Lessons specific to riding Icelandic Horses are available on the trail.
Gaited mounts: Icelandic Horses.
The trails: Trails include the quaint backroads of the Mad River Valley and, in season, across meadows and into the woods on the slopes of the Green Mountains. Along the way, your guide will describe the unique characteristics and history of Icelandic Horses, and point out the area's wildlife and natural features. You'll travel at a slow or fast pace, depending on your riding level.
Accommodations: Stay at the Mad River Inn, a rambling 1860s-era Victorian country house, where you'll enjoy a hot tub, feather beds, and a gourmet country breakfast. Rooms are decorated with antiques in cozy New England style. On warm days, breakfast is served on the back porch overlooking the meadow.
Best time to go: Day rides are available year-round, weather- and trail- conditions-permitting. Fall foliage treks are available from mid-September to mid-October.
Bring own saddle? No; each horse has a specially fit saddle to prevent rubs and discomfort on the ride. These saddles are made specifically for Icelandics and have cushioned seats for rider comfort.
Horses for sale? Yes, Icelandic Horses bred and trained on the farm.
Contact: (802) 496-7141; [email protected]; icelandichorses.com.
Wind in Your Hair Riding, Wanship, Utah
Your host: Sueanne Clark.
The getaway: Wind in Your Hair Riding is located at the base of Cherry Canyon, east of Park City, Utah. The ranch is picturesque, with historic barns and scenic pastures. Riding is offered on 1,000 acres of private land with miles of trails. The ranch takes only experienced riders on the trail (i.e., those with a solid seat and comfortable with faster gaits).
Gaited mounts: Paso Finos.
The trails: You'll ride through the mountains on Paso Finos, which exhibit a smooth, four-beat lateral gait. The two-hour (minimum) ride offers open spaces, some wooded areas, hand-built trails, and climbs to spectacular views. Area wildlife includes deer, red-tailed hawks, osprey, mountain bluebirds, and blue jays. Occasionally, you'll see wild turkeys, badgers, ermine, eagles, moose, elk, and coyote. Rare sightings include cougars, wolves, bears, and bobcats.
Accommodations: You can stay in the nearby Woodland Farmhouse Inn Bed & Breakfast in Kamas (woodlandfarmhouseinn.com), which offers accommodations in a 120-year-old farmhouse. Located on four acres, the inn provides quaint rooms and a full-service breakfast.
Best time to go: Year-round.
Bring own saddle? No; Western, English, and Australian stock saddles are available.
Horses for sale? No.
Contact: (435) 901-4644; [email protected]; windinyourhair.com.