Some national parks are blatantly beautiful and crammed with tourists and hikers. And then there are national parks that quietly wait to be discovered. Southeastern California's Joshua Tree National Park (nps.gov/jotr) awaits your discovery.
This desert park—which encompasses more than 200 miles of equestrian trails and three horse camps—offers unique riding experiences among Joshua trees and fanciful rock formations.
If you're planning your trip, top riding seasons are fall, winter, and spring. Avoid riding here in the summertime. Not only is it brutally hot, but locals tell us that bees are very aggressive in the heat, swarming on any moisture, including drinking glasses, water buckets, and even sweat. Winter may bring occasional snow flurries, but still offers comfortable riding. Spring generally spreads patchwork quilts of wildflowers. →
The park began as Joshua Tree National Monument, established in 1936. The area became a national park in 1994, when Congress passed the California Desert Protection Act.
Located 140 miles west of Los Angeles, Joshua Tree National Park is composed of nearly 800,000 acres; more than 80 percent of the park is managed as wilderness.
Two desert ecosystems come together in the park. The western portion is situated in the Mojave Desert, above 3,000 feet elevation. The eastern portion lies within the Colorado Desert, a lower, more arid, sunbaked bowl. This difference in elevation and terrain results in astounding biological diversity.
Here, we'll tell you about our experience riding and camping in Joshua Tree National Park and our ride into and around Pioneertown and the Pioneertown Mountains Preserve.
High-Desert Riding
We first headed to Black Rock Equestrian Campground (nps.gov/jotr/planyourvisit/black-rock-campground.htm), which sits at 4,000 feet elevation on the park's western edge. This camp is essentially a large dirt parking lot ringed by a low wooden fence. The equestrian sites are for campers with horses.
Amenities are basic, but there is a water source. You'll also find hitching rails, picnic tables, and fire rings. A few Joshua trees provide some shade.
Restrooms are available in the adjacent family campground. You're required to remove your horse's manure and place it in the manure dumpster.
This campground is a convenient launch pad for riders wishing to explore the hidden wonders of the Mojave Desert. Several loops from the campground travel through picturesque stands of Joshua trees, small canyons, and towering ridges.
At the visitor center, pick up a detailed trail map, as well as information on local plant, animal, and bird life to enhance your riding experience.
Our first ride here was a grand overview ride. We loaded up with water and sunscreen; saddled up our Missouri Fox Trotter geldings, Cowboy and Nate; and rode east on the California Riding and Hiking Trail for 1.6 miles. We then veered right on the short Fault Trail, which led us over a miniature-badlands area to a four-way intersection where we rode straight onto the Eureka Peak Trail.
The Eureka Peak Trail provided us a sheltered ride through a deepening canyon. Joshua trees and junipers along the canyon walls were joined by larger pinyon pines whose resident pinyon jays squawked at us.
About 3.6 miles from camp, we turned right on the Burnt Hill Trail. Our trusty steeds took us up a short pass for the long downhill trail back to camp. Downhill traveling through a Joshua forest with views 50 miles out to the snowy peaks near Palm Springs left us filled with awe.
At the base of the hill, you can ride .7 of a mile back to camp or turn left for an additional 4.7 miles up the Panorama Loop Trail. As the name implies, the top of the Panorama Loop Trail provides generous photo opportunities, including views of Warren Peak, the snowcapped San Bernardino Mountains, Desert Hot Springs, and Morongo Valley.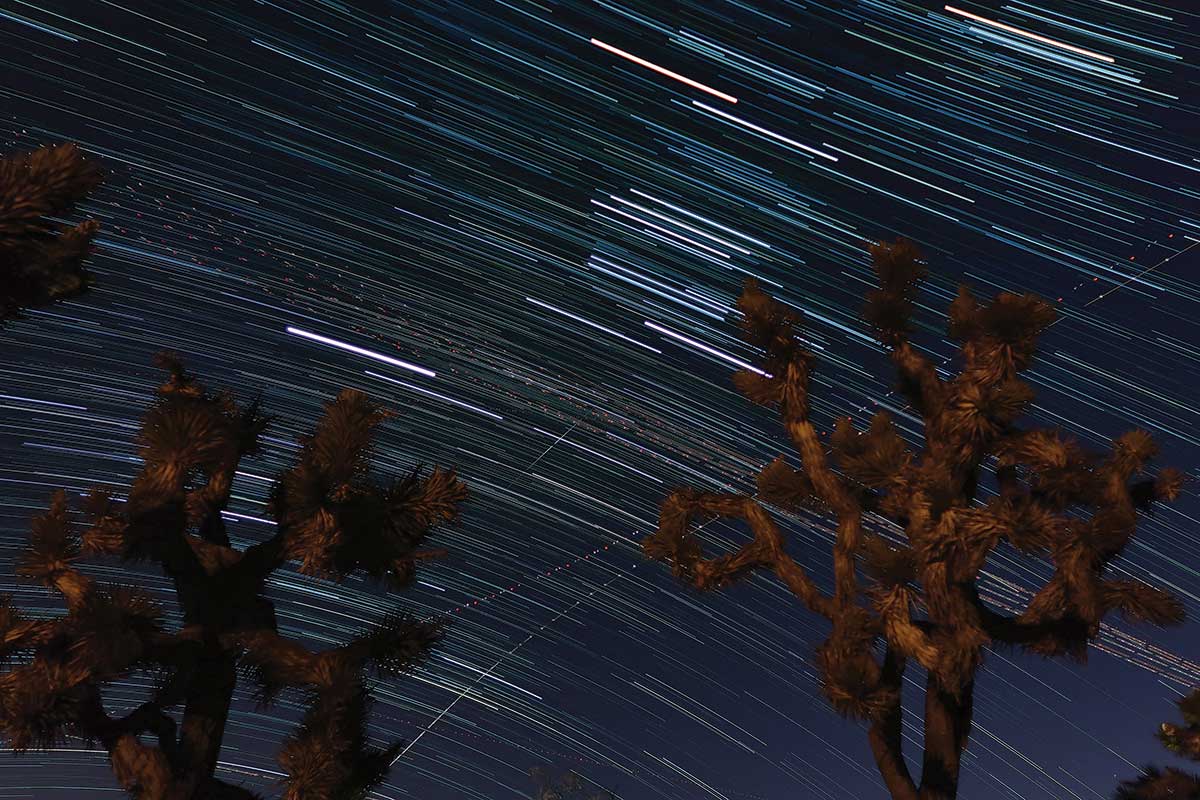 The West Entrance
Another ride we enjoyed was The Boy Scout Trail. To access this trail, we trailered north from Black Rock Equestrian Campground, turned right on Alta Loma Dr., made another right on Park Blvd., and entered Joshua Tree National Park through the west entrance. We drove about 8 miles until we reached the trailhead parking lot.
The Boy Scout Trail begins as a level trail that crosses barren terrain. In the distance, we saw boulders stacked haphazardly like a child's blocks. After a few miles, the trail snaked in and out of dry washes, and boulders loomed over us, while angular granite formations challenged our imaginations.
Point to point, the Boy Scout Trail is 8 miles long. We rode about 4 miles, then took the Big Piney trail on our left. This scenic trail wound down into a narrow, pinyon pine canyon, which provided us with a shady spot for lunch and "soft rocks" to sit on.
It's difficult to spot some of the wildlife here, as they blend in so well with their surroundings. We did see Gamble's quail. A five-bird covey with feather headdresses sauntered by, looking like little old ladies on their way to church. Although there are seven species of rattlesnakes here, we never saw a single one.
One allure of Joshua Tree is that it's a certified International Dark Sky Park. On our final morning at Black Rock, we rose before sunrise. Coffee cups in hand, we sat and watched the sky. Stars glittered like diamonds flung on black velvet. A shooting star burned its way toward Earth. It was a special moment for both of us.
Canyons & Valleys
Ryan Campground (nps.gov/jotr/planyourvisit/ryan-campground.htm) is the second equestrian campground in Joshua Tree National Park. Situated at 4,300 feet elevation, it's open only from October to May.
This campground is dominated by granite monoliths, boulder clusters, and creosote shrubbery. There are a limited number of individual sites at Ryan Campground available on a first-come, first-served basis.
A number of trails emerge from Ryan Campground; the best known is the California Riding and Hiking Trail, which we also accessed from Black Rock.
This trail was initially funded by the California Riding and Hiking Trails Act in 1945; the goal was to build a multiuse loop trail that spanned the entire state of California, from Mexico to Oregon. But in 1974, after hitting trail-development roadblocks, the act was replaced with the California Recreational Trails Act, and shorter sections were developed. Still, more than 1,000 miles of the original trail were completed, and the 37-mile portion through Joshua Tree is a great way to explore the park's diversity and topography.
From the day-use parking lot, you can ride the California Riding and Hiking Trail west for 18 miles to Black Rock Canyon. If you ride east, the relatively flat trail follows Queen Valley, veering north toward Jumbo Rocks and the remains of the Desert Queen Mine, an old gold mine.
Taste of the Old West
Pioneertown is located about 16 miles north of Black Rock Equestrian Campground. Founded in 1946 by a group of Hollywood personalities, it was to be used as a permanent Western movie set. It has since evolved into a fun destination to escape into yesteryear.
In 1946, Roy Rogers broke ground for the first building. Assisting him were his fellow musicians, called the Sons of the Pioneers, from whom the town takes its name. More than 200 movies and television serials were filmed in this authentic-looking, 1800s Western town. Today, the heart of Pioneertown beats in the form of Pappy & Harriet's Pioneertown Palace.
In October 2016, a well-known performer was lured by the town's rustic charm and showed up unexpectedly to play in Pappy & Harriet's quaint venue. Local residents were shocked and delighted when Sir Paul McCart-
ney jammed away on the cramped restaurant stage!
We dry-camped at the Pioneertown Corrals (pioneertowncorrals.biz) and stayed near our horses. In Pioneertown, you can ride right down Main Street, past Old West-themed homes and stores. But be prepared! Lots of children will want to pet your horse while their parents take pictures.
Desert Beauty
One of our favorite rides in this area was through the 25,500-acre Pioneertown Mountains Preserve, created by a land gift donated by the The Wildlands Conservancy (wildlandsconservancy.org). This conservancy has established the largest nonprofit nature preserve system in California.
To get to the trails here, we rode west on the dirt road behind the Pioneertown Corrals, crossed the highway, and took our first immediate right. After heading down the trail for 2 miles, we came upon a junction where we chose to ride the 7.4-mile Chaparral Springs Loop rather than the longer 14-mile Sawtooth Loop.
The spring in the Chaparral Spring Loop is a large water seep covered with a blanket of fuzzy green algae. The importance of this spring was clearly shown by the variety of footprints surrounding it. We only saw a drove of six Jackrabbits (which are technically hares). Overall, the trail was easy, with ups and downs into small arroyos and over a low pass.