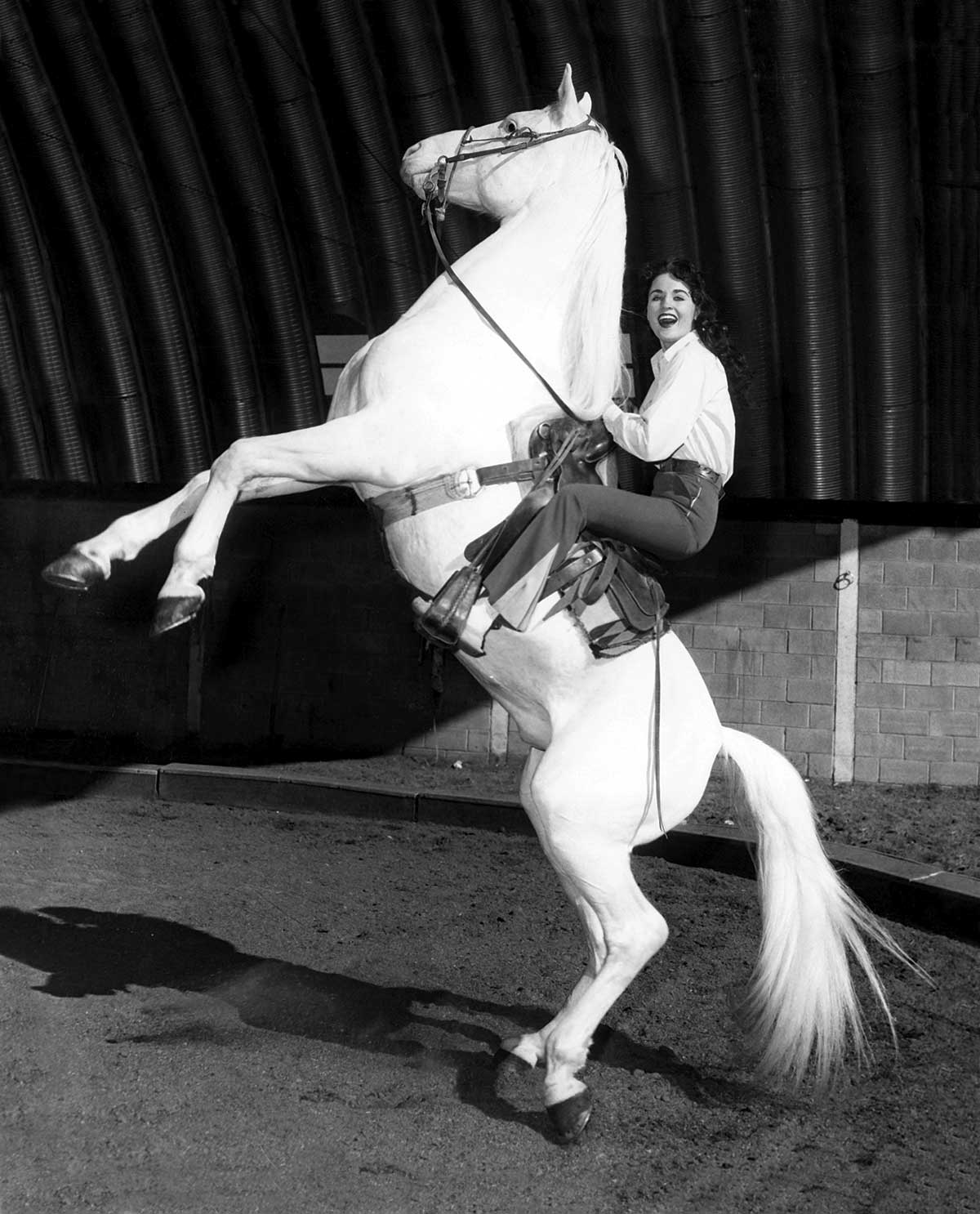 She called the late, great actor Henry Fonda "Hank" and knew the quintessential Mr. Sinatra as "Frank." These were her friends and neighbors. They were also people that her then-husband, stunt coordinator Robert "Buzz" Henry, worked with and doubled. But while Pat Denton loved her friends and her Hollywood life, she had another interest that came first. Her story is all about horses, and if you don't believe me, just ask her.
Reassuring Smile
I first met Pat when I was entering a National Reined Cow Horse Association Show in Phoenix several years ago. When a show office is jam-packed with people signing up the first day of an event, tempers can get testy. This particular lady at the counter, however, was handling the chaos remarkably well. When your turn finally came, she'd put you at ease with her pleasant face and reassuring smile.
After we left the show office, I turned to my wife, Laurel (you know her as the "Thoroughly Modern Cowgirl" of the July issue).
"Who was that lady?" I asked, as the two of them had exchanged greetings.
"Oh, that's Pat Denton," she replied. "Great gal. I've known her for several years."
Naturally, I thought Pat had a good surname—the same as mine! But I figured there had to be something else special about her because I liked her right away, unusual for me.
NRCHA shows came and went over the years, and I got to know Pat a little better. I especially enjoyed the shows she ran, because you could always count on her being kind and pleasant to work with. But beyond that, Pat exuded an elegance that seemed almost out of place at a horse show. Sensing there was a deeper story about her, I began asking around. There had to be something interesting in her background, but I knew Pat wasn't going to provide any clues.
Swords, Keyboards, Saddles
I eventually learned Pat Denton grew up in southern California at Griffith Park, a large municipal facility at the eastern end of the Santa Monica Mountains, near both Burbank and Hollywood. It includes a popular equestrian center, and there her father, Francis Foley, was an accomplished trainer of show horses and her mother, Grace Foley, was an office manager.
Mr. Foley trained and showed American Saddlebreds and Hackney Ponies. Pat grew up around the stable, helping her father and becoming a good horseman herself.
"My parents were good to me and gave me every opportunity they could," Pat tells me. "I took every lesson available, from fencing to piano to pretty much everything in between."
Of all the things she did, though, riding horses was her favorite. Pat wasn't allowed to show in gaited-horse events because she'd be competing against her father's clients. Instead, she'd go to the shows to help out and socialize.
After high school, the strikingly attractive young woman attended the John Roberts Modeling School. A horse caught her eye at about the same time, a gelding a friend of hers was riding one day. Pat told her friend she felt sorry for the horse, noting that the gelding, named The Sacred Ox, didn't even seem to know what a good petting was. Pat decided she wanted the former rodeo bronc for herself—and was intent on learning how to jump with him.
Seat of Her Pants
She signed up for lessons with Red Burns, a well known jumping horse trainer in the area. Because Burns no longer attended horse shows, Pat ended up going to events with Show Jumping Hall of Fame trainers Barbara Worth and Jimmy Williams.
"I was lucky to be around both trainers, as they were completely different from each other," she reveals. "Mr. Williams taught me the finesse of jumping, and Miss Worth taught me more a seat-of-the-pants style."
Pat showed The Sacred Ox at arenas across southern California, including Del Mar, Santa Anita, and Griffith Park. Soon her father advised her she needed to find a job to help support her new habit.
With her movie-star looks, Pat began taking modeling jobs and entering local beauty contests. Such competitions and the resulting parades were extremely popular at the time, helping to advertise and promote a variety of businesses. At one time Pat held double titles: "Miss Sherman Oaks" and "Miss Laundromat."
Soon she learned of an audition in Hollywood for Sammy Davis Jr.'s stage show at the Sands Hotel in Las Vegas. The audition went well, and before long she was on her way to another adventure. The stint there lasted three-and-a-half months.
"Mr. Davis taught me the art of 'quick draw' as part of a skit I did with him," says Pat. "He was extremely adept at it and a patient instructor, too. He was also exceptionally kind to me and the other eight girls I worked with in the show," she adds.
While she was in Las Vegas doing Sammy Davis Jr.'s show, she was recruited as a jockey in the Powder Puff Derby (female riders only) held at the Las Vegas Racetrack.
"I took the job as an adventure, and it certainly was," she says with a laugh. "We were able to practice working out of the starting gate just once before the race, and we ran the horses in Western saddles. It was fast and it was fun!"
When the Davis show finished in Las Vegas, Pat went back to Los Angeles and landed jobs appearing in several television commercials. One was for Chevrolet, where she appeared alongside singer and dancer Dinah Shore.
Pat also did commercials for then-popular Dial Soap. She even made appearances on such television shows as Day in Court, a much-watched daytime program on ABC from 1958–65.
Marriage and…Stunt Work
One of the place-to-be hangouts in Burbank at that time was the Pickwick Bowling Alley. The actress Debra Paget, who was stabling a horse with Pat's father (then at Pickwick Stables), used to frequent it. One night, Debra and her husband, Bud Boetcher, brought along to the bowling alley a fellow Bud was working with at the time, Robert "Buzz" Henry.
"When I met Buzz, I wasn't terribly impressed," Pat recalls. "But he kept showing up to see Debra's horses. I thought that was odd, but then he finally asked me out." After about a year of dating, Pat and Buzz took her parents with them to Las Vegas and got married.
The marriage started a new life for Pat. She often traveled with Buzz to movie locations, and even started doing stunt work on horseback. In 1969, for the movie Mackenna's Gold, she doubled Julie Newmar during the horse-chase scene on the rocky ledges of Canyon de Chelly in Arizona. In another scene, she jumped a horse off a raft and into the Rogue River in Oregon. Pat remembers having to repeat that particular scene three times.
"The horses were schooled to jump off the raft into shallow water, so they had no fear going off the raft the first time," she explains. "But getting them to jump off into the deep water the second and third times—that was tough."
To add to the challenge, the raft was tethered just short of a large waterfall.
"I had to get my horse off the raft and over to the shore quickly, so we weren't swept over the falls," she says. "You had to be careful not to get near the horse's head in the water, too, as he'd try to climb over you—you had to drop back and hold onto the tail."
Doubling Wonder Woman
Buzz and Pat worked on other major movies as well, including The Wild Bunch, Major Dundee, and The Guns of Navarone, to name a few.
In 1972 Buzz was the second-unit director and stunt coordinator on the John Wayne movie The Cowboys. The crew was just getting the film finished up when Buzz was killed in a car accident in Burbank. His untimely death left Pat without a husband, and their 3-year-old daughter, Cristina, without a father. Buzz and Pat had been married just nine years.
Pat had a horse-trainer friend at Hollywood Park. For a change of pace, Pat started ponying racehorses for him in the early morning hours. During that time she also did stunt work on the television show Wonder Woman, with Lynda Carter. At the track she doubled Carter in a fight scene that involved crashing through a glass door, vaulting over one car, and spinning out in another as she was "getting away."
"That's the only time I ever did stunt work without a horse," she notes.
Because this double work was taking place at the track, all her fellow morning exercise riders and jocks came over to watch her. One wonders what the racehorses thought of all that excitement.
As you can imagine, Pat holds stuntmen and -women in high regard, as she knows many of their challenges firsthand. But she modestly downplays her own involvement.
"The stunts I performed were minor compared to the work real stunt people do," she says.
About five years after the accident involving her husband, Pat embarked on another adventure. She packed up Cristina and her own mother, Grace, and moved to Durango, Colorado, a nice, small horse community on the banks of the Animas River. After a few years there, Pat decided it was time to look for a horse for Cristina.
New Horse, New Love
On the quest to find this special horse, she met the renowned Quarter Horse trainer Jack Denton. He happened to have available a nice palomino rope horse called Poco Sir Bar, also known as Hot Shot. Jack trained a variety of horses for halter, roping, and show-ring pleasure. As it turned out, there developed a personal connection between him and Pat, and a year later they were married.
Shortly after that, Jack and Pat were visiting friends in Oklahoma who told Jack of a good job opening up at Ensign Farms, a Quarter Horse breeding and training stable, working for a man named Cecil Johnson. Jack applied and landed the job as manager. While Pat and Jack were living in Oklahoma, Pat decided she'd like to add reining to her growing list of equestrian accomplishments, and started looking for a reiner.
Johnson had a 5-year-old gelding, Chica Tom, that was just standing in the pasture. Pat had a nice English mare at the time, so they made a trade.
Pat competed in reining at several shows, with good success. Then she decided she wanted to try some cow horse classes. After all, her horse was by Doc Tom Tucker, a top sire of cow horses. Pat turned for assistance to cow horse trainer Marilyn Peters of Edmond, Oklahoma, who lived just down the road from the Dentons.
With Marilyn's help, Chica Tom did indeed become a talented cow horse—and seemed to love it as much as Pat did.
There were some hairy episodes, though. The first time Pat showed Chica Tom in a cow horse class he slipped in the mud, fell, and cracked Pat's ribs. Undeterred, she showed him again…the very next day. All told, Pat showed Chica Tom for 10 years. Three times he qualified for and competed at the American Quarter Horse Association World Championship Show in Oklahoma City, Oklahoma.
Cow-Horse Capers
One particular year when Pat was at the AQHA World Show with her gelding, she ran down and made her first turn with the cow on the fence and was flung down on Chica Tom's neck. She stayed on and galloped down the fence for the second turn. Again she ended up on the side of her gelding's neck. She never did come off, though, and recovered each time—to the crowd's delight.
"How foolish I must've looked," Pat muses, "and, as you can imagine, I was dumbfounded when I made the finals."
She didn't win that year, but became a crowd favorite for her tenacity and wound up fifth in the world. Pat and her horse went on to earn Registers of Merit in both reining and cow horse.
Because Pat loved showing so much, she eventually became a show secretary for AQHA and NRCHA events. This new adventure took her to New Mexico, Arizona, Utah, and Colorado. Pat lost Jack to illness in 2007, but to this day she's the catalyst for keeping the ranch going. She boards horses, rides, and is still a businesswoman as a notary public.
"I guess I haven't led an ordinary life," she admits, "but I can tell you this…it was all for a horse."